SUMMER ACTIVITIES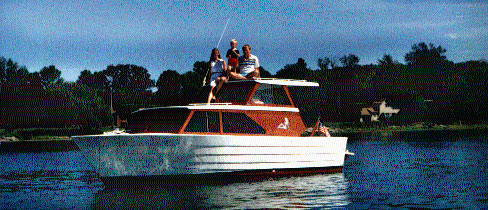 Fishing & Boat Rentals:
| | |
| --- | --- |
| Rent pontoon, fishing, and paddle boats from Woodlawn Resort (1/2 mile west) or Hunt's Resort (1/2 mile east). Use our dock to tie up!! Many of our guests prefer to bring their own boats as we have a boatlift alongside our 48-foot long dock. Lake Minnewaska is famous for walleye, pike, perch, crappie, bass, and sunfish. Our son caught a 28-inch walleye in June 1997 which is mounted above the fireplace. The kids often catch dozens of sunfish from the dock with no bait!!! | |
Jet Skis Rentals:
| | |
| --- | --- |
| Rentals are available at Minnewaska Marine in Starbuck, six miles west on Highway 28. | |
Swimming:
| | |
| --- | --- |
| Kids have great fun swimming off our dock. Don't forget to bring your own float toys! Glenwood and Starbuck both have public beaches with lifeguards and swimming towers. Minnewaska Area High School has an indoor pool which is open to the public. | |
Golf:

Glenwood is well known for it's two 18-hole golf courses. Both are beautifully landscaped with scenic rolling hills, and both have spectacular views of the lake. Minnewaska Golf Course is high on the hills above the north side of the lake, while Pezhekee Golf Course is on the southeast shore partially nestled in the woods. It features ravines with two suspension bridges built by my father!
Tennis:
| | |
| --- | --- |
| Tennis courts are located in the Glenwood City Park and across from the beach in Barsness Park. | |
Biking:
| | |
| --- | --- |
| We have three 15-speed bicycles and a tandem bicycle in the basement. Many of our guests also bring their own bikes. Our quiet Long Beach road is an easy two-mile ride to the Dairy Queen in town, or you can follow the lake and country roads around the entire 24 miles of Lake Minnewaska. | |
Hiking:
| | |
| --- | --- |
| Froland Wildlife Trail and Glacial Lakes State Park are both on Highway 29 at the south end of the lake. Ordway Prairie is southeast of Glenwood on Highway 104. Barsness Park is located in Glenwood across from the swimming beach and offers four miles of trails, including a trail to "Giant's Chair and Table" that is part of the "Legend of Princess Minnewaska"!!! Read the legend at The Hermitage and hike up to her grave which is located in the Indian Mounds on County Road 24, just off Highway 28, approximately three miles west of Glenwood. | |
Morning Glory Gardens:

This beautiful site is two miles west on Highway 28, across the highway from my parents' game farm. Many weddings are held there each summer in the tiny chapel by the lake. The gardens are lovingly maintained by community volunteers.
Terrace Mill:
| | |
| --- | --- |
| This historic mill is twelve miles south on Highway 104. You can have lunch or dinner at the 1903 flour mill and enjoy the many weekend activities, concerts, and celebrations. | |
Mount Lookout: This impressive landmark overlooks Glenwood and Lake Minnewaska. Take time to read the monument describing the history of the glaciers that carved out the lake basin and surrounding area.
Serrin Game Farm: My parents' 60 acre game farm is located two miles west on Highway 28, across from the Morning Glory Gardens. Guests are welcome to stop and see their buffalo, elk, and waterfowl!
Pope County Historical Museum:
Our well-tended museum is located in Glenwood across from the swimming beach. It features a fascinating, large Indian display. The little Episcopal Church sitting behind the main museum has a carved, wooden baptismal font with the inscription "In Memory of Hallie Serrin - age 10 - 1896", my grandfather's sister who died of typhoid fever. You can see my name, and several other Serrin family members, on the baptismal record in the rear of the church.
Memory Mercantile:
Drive eight miles north to Lowry. There are two floors with a large collection of antiques, and it is definitely worth the time!!!
International Art Gallery and Antiques:

Located right next door to us. Our neighbors, the Henriksens, warmly welcome our guests. They have an incredible collection with many pieces from Norway and all over Europe.
Minnewaska House Dancing:
| | |
| --- | --- |
| The supper club is located two miles west on Highway 28 across from my parents' game farm. Enjoy dinner with dancing on most Friday nights. | |
Movies:
| | |
| --- | --- |
| A large Cinema theater is located in Alexandria just 13 miles north of Glenwood. Many first-run movies play nightly. | |
Central Square:
| | |
| --- | --- |
| Take in plays and concerts in the beautiful old Glenwood High School auditorium which is well-known for it's incredible acoustics. | |
Glenwood Public Library:
| | |
| --- | --- |
| Find a book for those rainy days! My grandmother, Irene Serrin, was the librarian for 25 years, and her picture is hanging upstairs in the original Carnegie building. | |